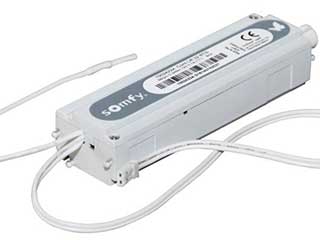 At Motorized Blinds & Shades, it's important to us to deliver the best possible custom window coverings to our customers, and one of our favorite products is motorized shade systems. We carry a range of Somfy products, the industry-leading specialists, because the amount of difference they can make to any room is substantial. Here are our top five reasons why motorized shades are such a great investment.
Keep Your House Comfortable For Less

Somfy products can be automatically controlled to open when the sun's shining, making the most of free natural heating to keep your room at the perfect temperature. With internal temperature sensors, they can detect the ideal cut-off point to maintain your home at a comfortable temperature without requiring any additional energy from your HVAC system.

Discourage Would-Be Intruders

Potential burglars will look for signs that a home's been unoccupied for a long time, such as blinds that remain closed all day or open all night. Help to guard against these opportunistic thieves by setting your shades to open and close automatically while you're away, discouraging potential burglars. The timed closing and opening function is also great on a day to day basis when you're home. Just set it and forget it.

Control Your Blinds and Shades However You Want

Long gone are the days when motorized shades had to be controlled from a wall switch. Now, with powerful wireless technology, you can control every window treatment in your home or office from one central panel, from your smartphone, or with a remote control. This potent flexibility allows you total control over your home's natural light filtering capabilities, allowing you to create the perfect ambiance with minimal effort.

Wireless and Wired Options Available

Two motorized shade systems are available; AC-operated ones for large and heavy blinds, and battery-powered DC ones suitable for installation anywhere in the home or office. Benefit from the convenience and ease of motorized shades by choosing the systems that best suit your needs; a small wireless shade for the bathroom window, and a smooth wired system for the living room.

A Huge Range Of Styles and Designs

Motorized shades are available in a wide selection of styles to suit any room. No matter whether you're looking for sleek and modern or warm and welcoming, we've got a style that's just right for you. Get in touch with Motorized Blinds & Shades today to have an expert come over and consult you on the various available options and which one is the best one for you.