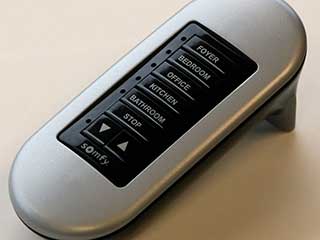 With a Somfy motorized system, you'll be able to operate your home's window coverings with utter ease. From motion control sensors, to smart home compatible options, you'll wonder how you ever got by without one before! It's time to simplify.
Smart Home Compatibility Is Straightforward
If you already have a smart home system in place in your home, then you already have an idea of how helpful it can be in reducing some of the strain of your busy schedule and letting you to operate things with just your voice. Why stop at just the TV or lights when you can add your window coverings to that list as well? Whatever type of blinds or shades that best suit the room from the kitchen to the bedroom can be fitted with Somfy's MyLink technology! Then you can use your smartphone, tablet, or another smart home device to control them with ease. Your smart home may even be able to help save you on energy costs by adjusting the coverings as needed for maximum energy efficiency!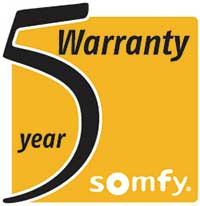 Sensors Help Save Energy
Somfy's sensors installed with your motorized window coverings will detect how much sunlight there is in the room and adjust your blinds or shades accordingly! This will help to allow enough natural light to lessen the use of artificial lighting while also being mindful of regulating the temperature to avoid it heating up too much in the summer, or letting out too much heat in the winter.
Remote-Controls Are Easy To Use
Whether you forgot to close the shades before you got into bed, or have a high up window that can't have manual window coverings, there's no need to worry with a Somfy remote-control! You can operate multiple coverings all at once to make them even, and much more.
What Types of Benefits Can Somfy Products Offer Me?
Naturally, the expected answer is - plenty. But if you're looking for a bit more specificity, then here are a few of the main enhancements this type of smart home technology can offer you.
The most appealing trait of using Somfy motors and controls is the "smart" quality, which allows you to adjust the position of your motorized window treatments with your phone. You can even use voice commands.
Convenience is a major benefit, especially considering Somfy products work Alexa, Google Home, and various other virtual assistants.
Privacy is easily achieved with the use of this technology. You can even program your electric shades to automatically close and open at certain times during the day/night.
The operational smoothness with which Somfy motors truly serves to enhance the overall appeal of your motorized blinds and shades. They help you create a fast and silent ambiance shift with a great deal of elegance.
And let's not forget about the money saving benefits. That's right. With self-adjusting shades, you'll have no trouble maintaining a desired indoor temperature, saving your HVAC some effort and lowering your energy costs.
Treat Yourself To The Best
Somfy offers top-quality motorized systems for your blinds or shades to make operation a breeze and your life that much simpler! Our team would be glad to help you find the perfect type for your specific needs in no time. Contact Motorized Blinds & Shades today for services in Los Angeles and the nearby area!