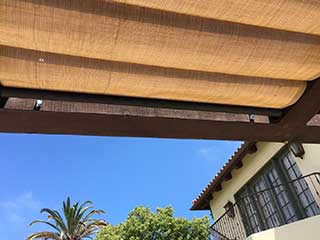 Invest in coverings for your patio to get the most out of your outdoor areas. When you choose custom patio shades from Motorized Blinds & Shades, you're getting the best quality around. Our products are perfect for providing shade and protection around the home. Whether you install motorized exterior shades that offer total convenience, or you choose waterproof patio shades that keep the weather out, you can be sure you're receiving the best products around. Take a look at some of the patio shades available in your area.
Use Exterior Roller Shades To Improve Comfort Levels
Your property could be a better place to spend time when you install exterior roller shades. These units are designed to keep the unwanted sunlight out of your eyes when you're sitting on your patio. By restricting glare, custom roller shades for your patio make it easy to enjoy sitting out at any time of day, whether it's a lunchtime barbecue or relaxing with a drink in the sunset. Our Los Angeles-based experts offer fast, free consultations at your property, so you can easily see how these products could benefit your home.
Motorized Patio Shades Are Extremely Convenient
When you fit shades to your patio, you'll always have the ability to keep bugs, sun, and dirt out of your home. However, you'll still have to keep repositioning them to suit your needs. Why not install custom motorized shades instead? Using modern technology, these systems make it extremely easy to keep your exterior patio shades at precisely the right position any time of day. With just a click of a switch or a press of a button, you can bring your shades to the ideal height.
Overhead Patio Shades Maximize Total Light
You might not want to have your patio covered at all times. Allowing some sunlight in from above is a great way to get the most out of your patio, but it can also have some drawbacks. Sunburn, heat fatigue, and exposure to rain are all issues with an open patio. Choose from our range of custom overhead patio shades to avoid all of these problems. Simply adjust the shades to the position you require, and you'll have total comfort whenever you need it. Talk to our Los Angeles team today for a free consultation.
Why Wait To Improve Your Property?
Our wide range of patio shade systems provides many great ways to improve your home. From waterproof shades that keep you and your guests dry to motorized exterior shades that guarantee convenience, there's something for every home. We're based in the Los Angeles area, so get in touch to schedule your free in-person consultation. There's no fee and no obligation, so why not contact us today?