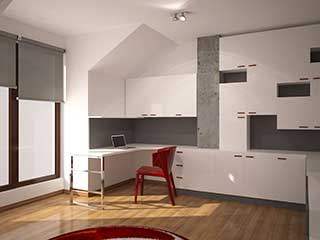 Roller shades are your best bet for window coverings if you're looking for something with a lot of choices to suit your needs without it being expensive! And that's only the beginning of their benefits.
Completely Customizable For Your Tastes
One of the best things about roller shades is how easy it is to suit them to any room type or style! Thanks to being made out of cloth, roller shades offer a wide variety of colors, textures, and patterns for you to choose from. Our professionals will assist you in finding the right look for any room with our free consultation and color sampling to discover that perfect shade of blue to go with your bedroom, or the right modest grey for a business setting. Their simplicity means that they won't go out of style either.
What Style Are Roller Shades Best Suited For?
Thanks to their straightforward design, these types of shades are excellent for any area where you don't want anything too big or flashy. Minimalistic designs for some living rooms can be a perfect match, as roller shades are all but unnoticeable when they're rolled up, and create a strong and simple rectangular shape when opened. They're also great for rooms where you want the focus to be on the furniture or otherwise, as they won't draw the eye away while protecting said furniture from sun damage.
Installations and Repairs Are Available
Our professionals can take care of installing your new roller shades for you in no time! With years of experience in the field, you can count on us to take care of everything easily and excellently so your new shades will work flawlessly for a long time. Should a problem surface with them, our company can also provide repairs.
What Do Roller Shades Have To Offer?
If you want to add some simple style to a room without taking too much attention off the surrounding decor, then these coverings might just do the trick. Of course, they have more to offer you besides.
💎Elegant design and versatility. These coverings can be made of anything from vinyl to various fabrics, making them suitable for all types of rooms.
🌞Light filtering roller shades. You can choose how much sunlight these coverings will block. They can be nearly see-through, room darkening, or provide complete blackout conditions.
✨Low-maintenance. Roller shades are very easy to take care of, as they usually don't have elaborate fixtures, pleats or cells that require special cleaning.
🖼️Did we mention low-profile design? When it comes to decor, this can be an invaluable contribution that complements the room without drawing attention.
💰Affordability. Given how these shades are less intricate than other types, they also tend to be more cost-effective.
Reach Out To Us Today
If roller shades sound like they'd be the perfect match for your window covering needs, or if you simply want to find out more about them, our experts would be happy to help! Contact Motorized Blinds & Shades Los Angeles today. Our professionals can't wait to lend you a hand.