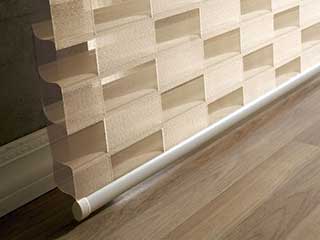 Trying to decide between shades that are solid to completely keep out light and provide privacy, and sheer to let in some natural light can be difficult. However, you don't have to choose when it comes to silhouette and pirouette shades! They offer the benefits of both all in one attractive package.
Lovely And Practical As Well
With these types of shades, you won't have to give up beauty or usefulness, as they provide both! These window coverings are soft and simple, as well as very compact compared to a lot of other styles, which allows them to quietly complement any room without drawing attention away from the more important features. The fabric allows them to be customizable as well to suit any color needs. These shades combine sheer fabric when fully opened to allow in natural light with the ability to close them as you would blinds to shut out the sunlight entirely as needed. It's what makes them an excellent choice for any room from the bathroom for complete privacy in a snap, to the living room to let in the sun without damaging UV rays in the process.
High-Quality Blinds Installations And Repairs Near You
Our team has been working in the field for many years, which means you can count on us to provide installations that are swift as well as excellent. Using the best equipment as well as our deep knowledge, our professionals will have your new window coverings up and ready for use before you know it for an affordable price. Should you find that your blinds or shades aren't working as they're supposed to, our company can help! Sturdy and long-lasting repairs are just a call away thanks to our experts.
The Main Benefits Of Sheer Shades
It's really no wonder people often choose to go with silhouette shades. These sheer fabric coverings have lots of benefits that make them ideal for all sorts of living and workspaces.
Light filtering is very important, and that's exactly what sheer shades are so good at. They diffuse sunlight and thus protect you from harmful UV rays without compromising total visibility and natural lighting.
Sheer fabrics are great for their UV protection qualities. These shades will keep your upholstery from wearing out quickly due to damaging ultraviolet radiation.
Don't think that because sheer shades allow light in they can't provide privacy too. While they may not block out all sunlight the way opaque materials will, these coverings can be adjusted to suit the level of privacy you desire.
Aesthetics is an aspect that isn't always touched on with sheer fabric shades, but there's a great variety of designs to choose from, and these sort of coverings can make anything from your kitchen to your living room look stylish and bright with zero effort.
Apart from cordless options, sheer shades can also be motorized, which is the ultimate childproof window covering choice.
Reach Out To Us Today
Why choose between shades that are sheer to allow in natural light, and ones that are solid to give you privacy when you can have both? Silhouette and pirouette shades are the perfect solution to achieve the best of both with style. You can find out more about them by contacting Motorized Blinds & Shades in Los Angeles now. You won't regret it!