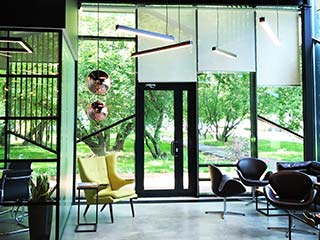 Smart window shades, such as Lutron shades, let you save money and get the most out of natural light. Excellent sunlight control makes it easy to keep your home at a comfortable temperature all day long, and keeps out uncomfortable brightness too. Lutron shades, with motorized controls, are a great and cost-effective solution for covering your windows. There are lots of different combinations of motorized window shade systems to create, using technology like dimmer switches and wall controls.
Remote control Lutron shades also offer the ability to connect with WiFi technology, too, and can operate from your smartphone. What could be more convenient than that? Our Los Angeles Lutron shade installation experts will help you out when it comes to deciding on the right system for your property. Start today with a free consultation and a no-obligation estimate on any motorized Lutron shade system.
Custom Lutron Shades for Windows and Skylights
Custom, made-to-measure window coverings always guarantee a snug fit, because they're built to your precise specifications. There's no sense in installing window coverings that let sunlight come through cracks in the sides, and our custom Lutron shades will always provide a tight fit. In addition, motorization provides ease of use and a whole load of great benefits for your property as well.
Choose Sheer or Blackout Motorized Shades
When you're looking to improve energy efficiency at your property, Lutron motorized shades are a really excellent option. You can leave the motorized shades to do all the work when you fit temperature and brightness sensors. These allow the Lutron controls to recognize when it should open and close the shades, so your property will stay comfortable without any work from you. There are plenty of different effects you can create, too, and it depends on what type of material your Lutron shades are made from. Choose blackout motorized shades when you want to darken a room or get better privacy. If it's a nice ambiance you're after, then sheer shades, motorized, might be the better option.
Lutron Motorized Shades For Any Los Angeles Window
Whatever you need, you can be sure that our team of expert Lutron shades installers in Los Angeles can provide it. From sheer coverings to blackout shades to Roman-style solutions. We custom make it all! Schedule your free estimate and in-person consultation to get started!