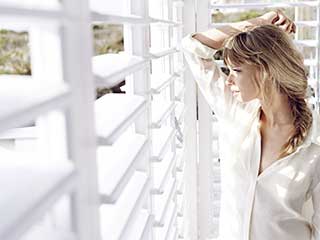 At Los Angeles, we believe one of the most attractive additions to any home is a set of high-quality plantation shutters. We offer a wide selection of highly beautiful designs, including wooden shutters and exterior fittings. This allows you to easily add high-quality shutters to any room in your house, bringing many benefits. View a few of the products we offer below, and find out why custom plantation shutters are an excellent fit for your property.
Top Quality Wooden Shutters
Wood is a classic shutter material, and it's easy to see why. It makes any home look more elegant, cozier, and more comfortable at a glance, and it also provides a wide range of practical benefits. Wooden shutters are sturdy, and can't be dented or shattered like alternative materials. If wooden shutters do get damaged, it's also not too difficult to repair them. Consider custom wooden shutters as an excellent investment for your Los Angeles property and an easy way to add value to your home.
Our Range Of Quality Plantation Shutters
One of the best ways to provide privacy at your property is to choose the right window coverings. With our selection of custom plantation shutters, you can be sure of keeping prying eyes out. You'll also get great-looking window coverings since we provide a fantastic selection of design choices and different styles. Get in touch with your local Los Angeles-based specialists today, and we'll help you find the perfect new plantation shutters.
Invest In A New Set Of Exterior Shutters
Window coverings can fit on more than the interior part of your property. A set of exterior shutters brings many benefits as well, such as added protection for your windows. With custom exterior shutters, you can keep your windows clean for longer. You'll also have the opportunity to add attractive design features to the outside of your property, making your home the envy of your Los Angeles neighborhood. Why not get in touch with our team today for a free consultation?
Don't Compromise On Quality Shutters For Your Windows
These units are some of the most important parts of any property, but many homeowners overlook them. If you don't choose the right window coverings, you could end up with a property that's dark and dingy, or where a room's occupants are continually squinting in the glaring sun. Passers-by might be able to look in on you easily, and your windows may need constant cleaning. None of these problems are insurmountable. If you choose custom plantation shutters that suit your Los Angeles home, then you won't have to worry about these issues. Find out how you can improve your home by scheduling a free consultation today.