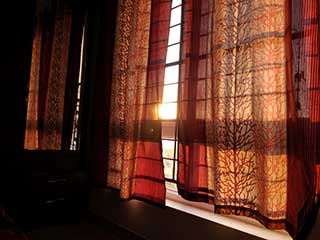 Draperies are generally what you think of when it comes to window coverings for a reason! They never go out of style thanks to their soft, flowing elegance, and add a gorgeous look to any room.
Customizable To Your Tastes
The cloth that draperies are made from allows them to be completely customizable to suit any room and its needs! Our experts provide color sampling and free consultation to help you find the right shade of color, pattern, or texture that will best suit whatever space needed. This type of window covering looks best in areas such as the bedroom, living room, or other large spaces that allow them to fully flare out and have the space needed to accommodate them so they don't feel too big for the area.
A Variety Of Styles
If you're looking to allow in some natural light, there are sheer fabrics to allow in the sunlight without harmful UV rays. Blackout options are also available to ensure restful sleeping in bedrooms, or complete blocking of glare in the living room so you can watch TV in peace. There are also options for thicker fabric for better insulation and noise canceling properties, as the density will repel sound as well as keep heat in or out as needed.
Expert Repairs & Installation
Should you find that the window coverings you already have aren't working as they should be, our professionals will get them repaired before you know it using our years of experience and excellent tools. Our team is also happy to get your new draperies installed for you quickly and easily so you can rest assured they'll be working like a charm for years to come! That's the kind of high-quality service you can expect from our experts.
What Drapes Are In Style Today?
The answer varies in terms of fashion, but also in term of utility. As you can probably guess, there's a vast range of available options, especially as far as curtain design is concerned. Different rooms have different interior fashions, so the drapes that can match a particular setting vary significantly in terms of functionality, type, and attachment style for a moment. Remember, most (if not all) of the options listed below can be combined with each other.
Thermal insulated drapes are great for those looking to reduce heat transfer in the room.
Blackout curtain panels are excellent for bedrooms of all sorts, as they'll let you keep sleeping even after the sun comes up.
Sheer drapes make for excellent UV sunlight filtering coverings that also provide some privacy and style.
Room darkening window curtains provide enhanced darkness when you need it, but don't necessarily have to create a complete blackout. This will help you wake up naturally after a while, without sleeping in too late.
Panel pair curtains, as the name suggests, consists of two separate sections, a very contemporary style that lets you block off only parts of the window in question.
Naturally, if the option for a double exists, the single panel drapes are also a viable choice that helps create an appealing symmetric look.
Let's not forget about valances, which are basically short curtains that hang on the top part of the window. They mostly serve a decorative function.
Rod pocket drapes make for a simple choice that has the hanging rod simply slid through the designed pockets to hang.
Grommet top curtains hang by feeding a rod through a set of ringed eyelets, which allows for very easy sliding back and forth.
Tab top drapes and curtains are hung using sewn loops of fabric that serve as the hanging rings which the rod slides through.
Hidden tab curtains are basically the same as tab top drapes, except that they have an extra layer of fabric that conceals the loops. Many prefer this due to the more appealing appearance.
Motorized Draperies Near You
It's time to improve your home by making sure it's better insulated, protected against sun damage, and looking lovely as well thanks to new motorized draperies. You can operate them with just the touch of a button! Contact Motorized Blinds & Shades now for more.