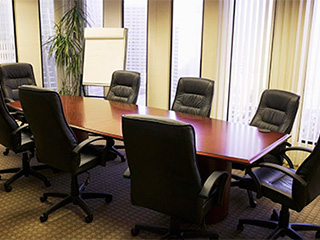 When you're looking for a tried and true, affordable option when it comes to window coverings, motorized vertical blinds are a great option! No matter what the aesthetic is of the room, there's a type of vertical blind to complement it.
Can Suit Any Style
Vertical blinds provide you with the ease of customization by coming in various types of materials! Our professionals will use our color samples and provide free consultation to assist you in deciding on which type would look best in the intended room. Cloth allows for even further customization when it comes to texture, pattern, and color and will provide a beautiful backdrop to the room. Vinyl is easy to clean and sturdy if you need them to withstand kids and pets! Wood looks gorgeous for a more natural appearance with more elegance to it. This type is also simple to repair, as one vein can easily be replaced, rather than needing to replace the entire thing!
Perfect For Larger Rooms
This type of window covering is best suited to big rooms such as living rooms, family rooms, and any area with a mid to large sized window. Their long silhouette will help to give the area a spacious feeling and they lay nicely without taking up a lot of space. They can be cracked to allow in some natural light in the case of vinyl and wood, and the cloth style comes in sheer and blackout options depending on your needs!
Installations And Repairs Available
Our professionals can get your new window coverings installed for you in no time at all thanks to our high-quality equipment and years of experience! Have a problem with the ones you have already? No problem! Our team can repair them easily.
Which Vertical Blinds Are the Best?
The word best has a certain weight. What might be right for you may not be right for some, as the old saying goes. There are all sorts of options to choose from, and it's important you get the ones that most suit your needs. Seeing as the most important aspect is the material they're made of, here are some common choices you can consider:
Fabric vertical blinds usually have no backing which allows them to achieve a sophisticated and elegant look while they filter natural light.
Vinyl vanes have a more tactile and textured look and feel, which makes them give the room a more high-class design, which is sometimes rare with vertical blinds.
Faux wood vertical vanes make for an economic and a beautiful and contemporary design choice that doesn't bring a lot of maintenance with it.
Patterned vertical blinds are a great way to add some eye-catching decor to the room with an affordable window treatment.
Skinny verticals, which are a type of blind with very narrow vanes, are very suitable for narrow windows whose mounting sections are shallow.
And let's not forget about bamboo vertical blinds, with their natural and eco-friendly look. This is an excellent design choice for sliding patio glass doors as well.
Automatic Vertical Blinds Near You
Leaving your windows exposed can cause energy waste, lack of privacy, and sun damage to your furniture! There's no reason to risk it when our company offers affordable and excellent solutions. Just call Motorized Blinds & Shades today to get more information in no time!