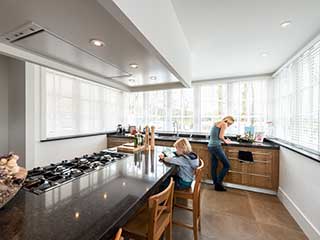 There are so many different types of window treatments available to choose from for your Los Angeles home. You may not know where to start! Thankfully, that's what our experts at Motorized Blinds & Shades are here for. We'll help introduce you to all the beautiful varieties of coverings available, including the famous Venetian blinds. This style is a classic look, and can easily be customized to suit your needs in terms of materials used, and even motorization, to make using them a breeze! Curious to find out more about this versatile type of blind? Read on below for more information about the many types to pick from!
Blackout Venetian Blinds in Los Angeles
Whether you want to create the ultimate theater experience in your living room, or simply want to sleep more soundly, blackout Venetian blinds are a great choice! With this style, you can completely block out any outside light from coming in. No more glare on your TV while watching a movie, or annoying street lights keeping you up. Blackout Venetian blinds are a must-have for anyone who works late shifts, and need to sleep during the day as well! Blackout doesn't limit you to one type of room darkening window treatment material either. So you can suit it to the décor of the area with no problem.
Wood and Faux Wood Venetian Blinds
Wood Venetian blinds are certain to be a gorgeous addition to any area, whether it's your home office where you can match it to your desk or the front room where guests will be able to admire them. Wood Venetian window treatments will require upkeep to keep them pristine, but it's worth it for the elegant aesthetic they provide. Unsure you want to commit to that much maintenance? Talk with our Motorized Blinds & Shades professionals about faux wood Venetian blinds instead! They cost less and don't require the attention of real wood while looking just as good.
Motorized Venetian Blinds
There are many benefits to getting motorized Venetian coverings for your Los Angeles windows! Rather than having to manually adjust the blinds yourself, it's as easy as using an app on your smartphone or tablet thanks to their Wi-Fi capabilities. You can even open or close them while away from home! Your new motorized Venetian blinds adjusting now and then can deter potential burglars, who will believe someone is around, as well as help to save energy by keeping your home better protected from the sun when needed! Why not simplify your window coverings, and your lifestyle, all in one?
Metal Blinds and More
Our technicians are happy to offer a free consultation to assist you in finding the perfect type of Venetian blinds for your home! Looking for the most affordable option? Metal Venetian blinds could be just what you need. Aluminum is also a popular choice and is durable to last for a long time. Vinyl is a great choice if you'd like something easy to keep clean, and PVC is also an option! Whatever you choose, our Los Angeles team will give you a free estimate on the cost. All you have to do is give us a call, and you'll be on your way to lovely new Venetian window treatments (or other types) in no time!