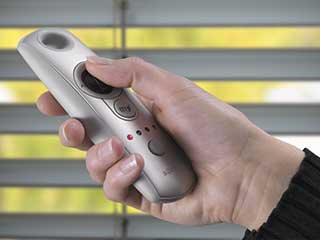 Motorized blinds or shades offer a variety of benefits, and being able to control them with a remote, wall pad, or smart home system just improves it all the more! There's a variety of styles to choose from as well to customize them to your specific needs. Your home will look beautiful and operation couldn't be simpler.
Can Suit Any Room
Remote controlled blinds and shades come in various styles so you can have any room fitted with them while adhering to the aesthetic and needs of the area. From smaller blinds in bathroom windows, to larger shades in the living room or bedroom, they can all be made remote control friendly and simple to use. Our experts offer color sampling and free consultation to assist you in finding what will best complement any room in your home!
There Are Countless Benefits
If you already have a smart home system in place to use just your voice to play music, turn on the TV, or otherwise, this is a no brainer! Your window coverings can be just as simple to use, and smart home systems are able to optimize their usage to help reduce energy waste and make your home more properly insulated according to the time of day, temperature, and otherwise! Even without a smart home system, just the simple remote-control or wall panel can make things so much smoother. Rather than struggle with frustrating strings to get every shade even, just press a button! High windows otherwise out of reach for manual shades can be covered easily. It even enhances security, as setting your window coverings to move on a timer gives the impression that you're home even if you're miles away! They're quiet as well, so there's no worry of waking anyone up.
What Are The Benefits Of Different Electric Blinds Controls
What's so great about motorized blinds and shades is that there are many different ways for you to control them remotely.
Naturally, the most basic way would be to use a wall mounted control switch. It's a simple addition that can be colored to match the wall's decor. Some advanced models have memory features too, allowing you to set and recall certain shade positions.
There's a variety of remote control handset models, with digital displays, universal synching, and various memory and timer features.
The app control method allows you to utilize Wi-Fi technology to adjust the position of your motorized blinds and shades with your smartphone or a tablet device.
With automatic sensors, you go so far as to completely forget about adjusting your electric blinds. Brightness and temperature sensors will see to it that your window coverings will move on their own, optimizing your indoor environment without you even having to think about it.
What about Amazon's little helpers? Yes, you have the option to truly integrate motorized blinds into your smart home system and control them with your voice via Alexa, Echo, and even Google Home and other types of virtual assistants.
Motorized Blinds Controls Near You
With everything else connected to your smart home system, why not add your window coverings to the list? The wall pad or remote-control options will also make things just that much simpler for your busy lifestyle. Contact Motorized Blinds & Shades today!