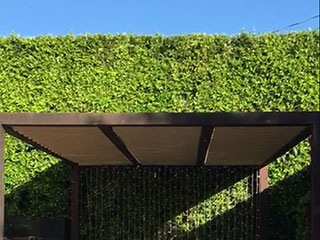 Protection from sunlight becomes required not only for windows but for outdoor settings too. With a backyard patio, a deck or a porch, or even just a lawn or a garden, you can add various freestanding shades or attached motorized patio covers for maximum protection as well as for a nice aesthetic touch. We install custom made patio shades, attached and freestanding, for big and small outdoor lounge areas. You can make eating outside a joy and a treat, without worrying about harsh sunlight. All it takes is finding the right patio covers for your Los Angeles backyard.
Pop Up Patio Canopy Tent
This type of portable pavilion offers you excellent protection in virtually all terrains. You can set a pop-up canopy over a lawn or connect it to a paver patio with rods and small columns. The canopy tent can provide shade from the sides too with awnings that cover annoying angles where glare often comes in. With freestanding patio shades, you have the option to move the setup around to different spots. This portability makes freestanding patio covers very popular for throwing parties, BBQs, and other social gatherings.
Motorized Patio Covering Solutions
For attached sunlight protection for patios and decks, the most popular and effective option is motorized patio shades. You can determine how much shade the motorized patio cover creates by dictating its position over the outdoor lounge area. Motorized patio shades can offer you easy remote control operation. Choose Wi-Fi connectivity for the ability to use your smartphone and not only the remote handset.
Many customers choose motorized patio shades for Los Angeles area properties to ensure protection from UV rays and blazing sunlight even during peak heat hours. The cooling of remote control patio shades becomes even more effective with the right materials. From vinyl to aluminum to PVC and other options, your patio cover can provide thermal insulation that helps cool down the shaded spot.
Shade Sails For Pool Decks
Many love the clean and aesthetic look of shade sails spread open wide over a pool or a decking area. You can connect the shade sails with strong ropes to ensure even rough wind doesn't move or tear them. This method of patio shade sails allows for creating coverage for all sorts of sections where other options won't fair as well. You can get shade sails for Los Angeles patios custom made in various imprints. So even one with the Jolly Roger can work, for those pirates at heart hoping for life on the high seas.
Custom Patio Shades For Los Angeles Outdoor Lounges
As far as options go, patio covers offer a variety of choices that differ from each other quite a bit. The best course of action when thinking about getting new patio shades installed is to consult with someone on different approaches. We provide free estimates on patio shades, motorized and freestanding, for commercial and residential purposes. So go ahead and call us to book a free consult on any patio covers or shades you want.