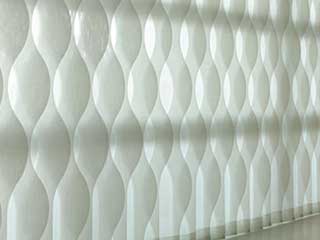 If you are having trouble with noises coming from the outside, or want to better insulate your home to protect against energy waste, you might be surprised to learn that the type of shades you have can make a huge impact on these areas! Cellular shades are an excellent choice to address both of these issues, and our team would be glad to help you learn more.
Does The Cell Size Matter?
Cellular shades come in a variety of sizes, which is referring to the size of the cells themselves that the shades are made out of. In order to find the proper fit for your window, the sizes do need to be taken into account! For example, small cells are good for smaller windows, such as ones in a bathroom or kitchen. It allows them to fit snuggly without being too big, as the larger sizes might be. It also looks better in a smaller space, as it's more proportional to the area it's in. Mid-size cells are great for more regular sized windows that you'd find in your bedroom or living room, and are the most popular size for this style of shade. For any larger windows, such as wide picture windows or any area in general with a lot of window space, the largest size of cell is best. Smaller cell shades will create too many lines and make things look busy, whereas large cell shades will provide even, proportional lines to the space.
Excellent For Saving Energy And More
Due to being denser than most other types of shade, cellular shades provide better insulation coverage over your windows. They keep warm air in during the winter, and easily bounce back heat from the sun during the summer. This density is also what helps reduce noise, and ensures privacy!
What Are The Different Types Of Cellular Shades?
The main purpose of these coverings, aside from providing UV protection and privacy the way every other shade is supposed to, is to add some insulation to your windows. Of course, that doesn't mean that all cellular shades are the same, and in fact, there's quite a variety of options. These mostly change according to a set of factors.
Cell size - obviously, there's quite a range of choices with this factor. From small 3/8" to 9/16". The size of the cells you require grows in direct correlation to the size of the window in question.
Cell range - the number of layers your cellular shades have will determine their energy efficiency. From single cell shades, to double and triple, and potentially even more. The higher the better, naturally. But more layers also mean more weight.
Operation Method - your cellular shades can be cord-drawn or cordless. If you have small children, you'll want to go with the cordless and more childproof option. Remember, you can also get motorized cellular shades.
Room darkening options - the material your cellular shades are made of will determine their light filtering capabilities. From sheer to thick blackout shade. The choice is up to you.
Window shape - these coverings come in a few different forms so that if you have a triangular or a circular window, angled cellular shades will be preferable over, say, arched ones.
Roman and cellular shade mix - this type of option gives you a sort of two-for-one combo. These are essentially Roman shades designed with a cellular structure, making them both very decorative and excellent insulators.
Take The First Step
Cellular shades can do a lot to improve your life by reducing outside noise and ensuring your privacy! On top of that, motorization makes using them a breeze. Contact Motorized Blinds & Shades Los Angeles now to get an appointment scheduled in no time.