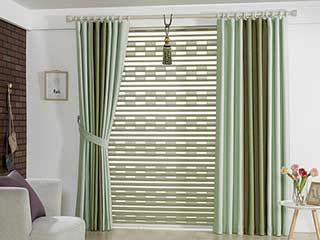 Motorized Blinds & Shades offers custom curtains and drapes for local home and business owners. You get discount rates and professional installation services for regular or for motorized curtains and electric drapes. These sort of window treatments can truly enhance your existing décor and make a room stand out. Elegant, functional, and affordable window curtains and draperies. Your imagination is the limit.
Custom Curtains And Draperies
The custom window treatments provided by the Motorized Blinds & Shades team are all made to customer specification. Your needs and preferences serve as guiding factors. Any kind of room or hallway can benefit from having curtains or drapes installed over its windows. Of course, matching the right colors, styles, and materials to the room is very important. Other factors, like degrees of privacy and light filtering and glare reduction, are also crucial. The same goes for ease of use, and price range. With us and these custom window treatments, everything's taken into account.
Difference Between Curtains And Draperies
What makes curtains and drapes two different things? Curtains are made of lighter, unlined fabrics and hung from the rod by hoops. Drapes are heavier, pleated or paneled, and hooked into place on the bar. They also tend to be longer than curtains. Draperies also usually have extra decorations like embroidery or valances. Curtains are airier and let in more light. Drapes are more obscuring, being made of heavier and thicker materials.
Motorized Curtains For a High-Tech Feel
Curtains are easy to open. Sliding them back and forth and folding up into the sides of their bars as needed by their many hoops. Because of this, integrating them with a motorized opening system is easy. It's also easy to have the motorized curtains controlled via a remote handset. Alternatively, you can control your electric drapes and curtains with a timer, or sensor devices.
Automatic Curtains and Draperies
Motorized curtains are incredibly convenient. They can make home management much easier and less stressful. You can come to rely on automatic curtains and drapes to protect your wallpaper and furniture. In fact, with certain fabrics, you can even utilize insulating curtains to conserve interior temperatures. This translates to saving on your heating and air conditioning bill. For the best motorized curtains and draperies nearest Los Angeles, give us a call and see what's available.
Custom Drapes and Valances
Draperies have long been considered the more elegant and decorative of the two options. Their elegant pleats and more expensive materials like satin, wool, or velvet offer a lot of diversity. Adding some smaller, stationary valances over your custom drapes will enhance their look. You can also try tying them back with an attractive ribbon in a complementary color. These simple extra touches can turn your window treatment from attractive to grand. Talk to a curtain maker near you about drape customization for your home or office.
Blackout Curtains and Light Filtering Drapes
The opacity of the fabric used to make your custom draperies will determine their efficacy. Blackout bedroom curtains are fantastic for privacy and for sleeping in late without sunlight disturbing you. Light filtering sheer drapes work well for living rooms and kitchens. Any area where you want to enjoy natural lighting with glare reducing window treatments can do with light filtering drapes. You get to choose between the sheer or opaque curtains and draperies you want for your office or home. So seek some expert help and choose a window shading product that's right for your needs.
Order New Curtains and Drapes Today
Cheap curtains, discount draperies, all at high quality and of custom design. Your new custom window treatments are just waiting to come into existence. Contact the Motorized Blinds & Shades team to get a free estimate and an in-person consultation. Find the best curtains and drapery combinations for your property. These affordable and premium quality shading products available to anyone near the LA area.