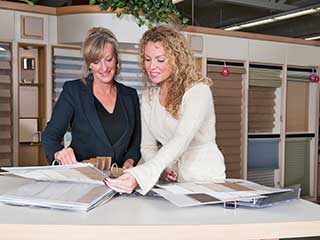 Finding the perfect style of motorized blinds or shades for a room is easy when you contact Motorized Blinds & Shades. Let us help you make sure that you consider all the options and find the best kinds of automated blackout blinds or light filtering shades for your needs. With a free consultation at your home or business, you'll gain all the information and guidance you need to customize a set of electric blinds or solar powered shades. You'll be surprised how effortless the process can be. When you're looking for the nearest source for motorized blinds, contacting us is always the right call.
Experts On Motorized Blinds & Shades Near You
With us, you'll always get professional advice and guidance on your search for finding your new blinds or shades. The LA-based team here at Motorized Blinds & Shades puts customer satisfaction above everything else. And you'll find that immediately evident. Whether you're interested in a custom set of wooden blinds, blackout roller shades, or any other type of window treatments. With us, you'll get all the information you need or want, ensuring your new motorized window coverings will match your requirements perfectly. From Sherman Oaks to West Hollywood, Motorized Blinds & Shades services all neighborhoods and cities in the nearby area.
Beautiful and Stylish Motorized Shades
No matter what type of automatic blinds or shades are best for the room you have in mind, Motorized Blinds & Shades can make you a custom set. What's better than cordless blinds? The same window treatments only motorized! Avoid needing to deal with annoying strings that get tangled or manual operation that requires your physical presence. Simply push a button, use a smartphone app, or give the right voice commands. Your motorized shades will move all by themselves. If you want to add new electric blinds to your home near Beverly Grove, or are looking to enhance your Santa Monica property with new automatic window coverings, you'll get a great deal and a terrific product with us.
Surprising Pros of Motorized Blinds
The ease and convenience that automatic window treatments offer are immediately obvious. But there's a lot more that motorized blinds and shades can offer you. Somfy and Lutron products come with timer settings to take care of moving them for you as needed. You also have a range of smart, self-adjusting blinds that utilize temperature and brightness sensors. Aside from this extra security and complete automation of natural lighting usage, motorized blinds are also smart home friendly and even have energy saving benefits.
Can Existing Blinds Be Motorized?
Yes, but whether or not that's the right way to go is up for debate. It's possible to add a motor system to an existing set of blinds or shades via an automation kit. However, it's usually better to have new motorized window treatments installed from scratch, to ensure that they don't suffer from add-on related issues later on. Your current blinds or shades probably weren't made with motorization in mind, which will make them less suitable for automation than coverings that were specifically custom made for this purpose. New models can allow you to control your motorized blinds using a smartphone app, and even set timers and utilize light sensors to completely automate the opening and closing of your shades.
Are Motorized Blinds Worth It?
It'd be kind of hard for us to answer this question "no", don't you think? Motorized blinds have plenty of benefits to offer you, but it's up to you to decide whether or not they're worth it. Let us give you a short overview. As far as convenience is concerned, motorized window treatments are hard to beat. Simply using a remote or your smartphone to control them, or having them work automatically without you even thinking about them is better than drawing the shades manually. And you don't even have to worry about wires. There are wireless motorized blinds available today, as well as battery powered models. There's no question about that. But did you know that motorized shades can also help you save on energy? By having the shades lower and rise according to outside temperatures and sunlight will help you maintain a desired indoor temperature.
What Else Can Motorized Shades Offer Me?
Well, let's talk about security for a second. Let's say you're away from home and a burglar is casing your property. They'll have an easy time figuring out you're away, won't they? But if you have motorized blinds or shades, you can set them to open and close at certain hours, making it seem like there's someone home. This won't completely ward off thieves and the like, but it can serve as a great deterring factor. Of course, having this part of your home or office automated also helps you create a more innovative smart home feel. With the way progress is heading, automating your blinds will probably seem like an obvious choice within a handful of years or less.
What Are the Best Motorized Blinds?
As far as the blinds themselves, the answer really depends on your preference. Pretty much all types of window treatments, from cellular shades to faux wood blinds, can be motorized. This includes draperies too. As for the motors and control methods, Somfy and Lutron, for example, are some of the best, world-famous, brands available today. Whether you're looking to motorize your skylights, your bedroom curtains or any other type of covering, such brand names make for a perfect choice. Want to use your smartphone to program a schedule for your motorized blinds? That option is readily available with products from such major brands.
Are Motorized Blinds Battery Operated?
They sure can be. While there are a lot of hardwired motorized window treatments available today, there are plenty of alternatives. Although the installation of wired systems is by far the simplest, that doesn't mean that's the best choice for you. Battery powered motorized blinds will allow you to keep controlling your coverings even when the power goes out unexpectedly. Don't even worry about appearance, as modern models present a very elegant solution in which the battery can be mounted in a way that's practically unnoticeable. There's lots of variation in this avenue of automatic blinds and shades. There are even solar powered blinds and shades that harness sunlight to generate power for themselves.
A Source For Motorized Blinds Close To You
With professional consultation, you'll find that choosing new automatic coverings for your home or office windows is far easier than you expect. There are a lot of options and customization possibilities. Contacting Motorized Blinds & Shades for a free consultation is always a helpful move. That's true whether you live near Fairfax and La Brea, somewhere close to Burbank or anyone near Calabasas. Get free help from the closest automatic shade providers and find a set of window treatments that enhance your decor and improve your smart home system.
Looking For Affordable Blinds & Shades Near You?

Trustworthy Services and Solutions

Affordable & Competitive Prices

10+ Years of Thorough Experience

Finest Quality Window Treatments