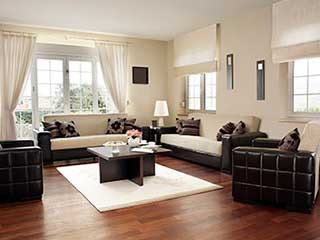 As the name suggests, Roman shades have been used for years and years thanks to their distinct aesthetic, and woven shades can give your home a gorgeous texture and look unlike any other. Both are great options for a more interesting and unique window covering look than most!
Roman Shades Bring Class & Style
If your dining room needs shading that complements its dignified nature, or you have a sitting room that requires window coverings to match its exquisite style, Roman shades are a fantastic choice. Rather than rolling up like a roller shade, this style folds as it's drawn upward for a far more unique look. Our free consultation and color samplings will allow you to find just the right color, texture, or pattern to suit the space as well. They also are available in blackout options if you want to be able to completely block light from a bedroom for easy resting.
Woven Shades Provide A Natural Look
Woven shades are so named due to being made of materials such as bamboo, reeds, or even grasses woven together. This creates a very particular and interesting texture that will certainly stand out while not being too overbearing. They're great for any rooms such as the bedroom or living room where you're looking for a calm and casual feeling. If you want to allow in some natural lighting there are open knits, or tight knits to allow for privacy.
What Types Of Roman Shades Are There?
When it comes to these window coverings, there's quite a variety of options to choose from. The differences mainly come down to structure and design stylings, but that's one of the main reasons why you're considering Roman shades, right?
Flat Roman shades, as their name implies, lie straight against the window when fully drawn. When they open, their panels fold neatly in stacks. This is the classic looking type.
Hobbled Roman shades consist of overlapping folds that are essentially loops of fabric that cascade down in a very appealing way, similar to drapes.
You can also choose to go with embellished bottoms that create a certain style. The curved European look or a fan-like spreading are very popular choices.
Roman shades can be made of different materials, which will determine their opacity and their ability to filter sunlight. They can be very sheer, for example, allowing a lot of natural light in.
Room darkening shades make for an excellent choice for those interested in privacy and added UV protection.
And let's not forget about safety. Cordless Roman shades are important if you plan on having these coverings installed in a child's bedroom. Cords also tend to have more of a cluttered look to them, so doing away with them can also be an aesthetic choice, not necessarily one driven by safety concerns.
Speaking of safety, motorized Roman shades, whether hardwired or battery powered, are an excellent way to give any room a unique sense of high-tech elegance.
Installation & Repair Services Available
Our experts are here and ready to get to work on installing your brand-new motorized shades for you in no time at all, or repairing ones you already have. We use the finest tools and years of knowledge so you know it was done by a professional hand.
Classic Roman Shades Near You
Why settle for boring or uninspired looks for your window coverings when you can choose a far more special and interesting look and texture for them? Our lovely Roman and woven shades will make your home stand out in style. Call Motorized Blinds & Shades today to find out more!