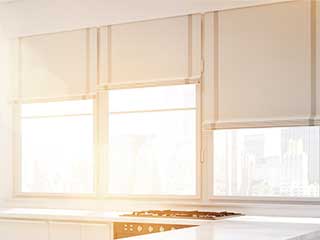 If it's maximum light control and privacy you're looking for, then you can't do better than our custom blackout blinds. We design these products to your exact specifications, ensuring you get the best custom made blackout blinds for your needs. Combine whatever colors, materials, and designs you like to create a set of blackout blinds perfect for your Los Angeles home. We know that high quality doesn't have to mean a high price, and you can be sure that all our rates are extremely competitive. We beautiful designs and sturdy materials, our dark window treatments have something to offer every local customer.
Blackout Window Treatments For Your Los Angeles Home
We make a huge variety of blackout blinds to suit any purpose. Our products are available in any size and shape you need because they're all made to measure by our specialist manufacturers. Whether you need blackout blinds for skylights or any other window in your home, we can quickly produce a perfectly-fitting product. We even offer specially-designed custom blackout curtains for French doors. That makes it easy to add privacy and comfort to any room in your house. Of course, should you want something more durable and rigid, blackout blinds will offer that, and then some.
Blackout Blinds For Bedrooms
One of the most popular uses for our blackout blinds is to provide extra privacy in the bedroom. Many Los Angeles homeowners find that their windows are overlooked by neighbors, and when they have the lights on at night it can be possible to see into their home. This means you'll never feel fully comfortable inside your bedroom. And this is the one place where you should have the most privacy of all. Our bedroom blackout blinds make for the perfect solution to this problem. We offer a range of colors and materials that are ideal for any decor scheme. You can even choose to get motorized blackout blinds so you can control them remotely from the comfort of your bed.
Custom Blinds For Office Spaces
You need to have comfort and privacy at work as well as at home. We support Los Angeles businesses by providing top-quality blackout blinds for office windows. This means an end to office headaches caused by blazing sunlight. You won't have to worry about sitting through long, uncomfortable meetings anymore since you can easily cut out dazzling sunlight. We suggest improving your workplace even more by installing our custom motorized blackout blinds, too. These are ideal for quickly adjusting many blinds at once, or controlling the light coming in through hard-to-reach windows. Our selection of low-cost motorized blinds makes it easy to introduce some modern convenience to any home or business. Speak with our Los Angeles-based specialists and learn more about the different options.
The Best Blackout Blinds In Los Angeles
We provide everything you could possibly want to make your property a comfortable place to spend your time. Our range of attractive, highly practical dark window coverings makes it incredibly easy to improve any room. Once we've installed your new custom made blackout blinds, you'll wonder how you ever managed without them. If you'd like to learn more about our range of top quality window blinds, schedule a free consultation by calling us today. Our Los Angeles window blind specialists are always ready to help. Give us a call, and we'll provide all the information you need on our low-priced blackout blinds.