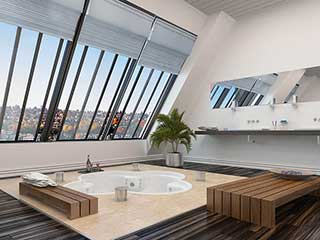 Skylights are certainly a beautiful addition to any room, but can also cause difficulties if you aren't able to block out the sunlight as needed. Our experts can help with our simple and easy to use skylight shades. You'll be able to adjust without problem using a remote and still be able to look up at the sky any time you want.
Customizable For Your Tastes
Skylight shades come in a variety of styles to suit your needs both aesthetically and practically! Cloth shades provide a solid and thorough blocking of the sunlight while also coming in an array of colors, patterns, and textures to find one that best complements the room. Our professionals can provide free consultations and color samplings to help you find the right fit!
Choose From Multiple Styles
There are options for light filtering to allow in some natural light without the damaging effects of UV rays, or blackout if you want to completely block out light altogether. The latter is excellent for bedrooms or the living room to cut glare. Cellular shades are denser thanks to their honeycomb shape and provide more noise reduction and insulation benefits, so if you're looking to save on energy as well as more peace and quiet, these are an excellent option!
Different Types of Skylight Shades
As you can probably guess, there's more than one type of covering that can fit your skylight windows. The blinds or shades you choose for this structure can really give the room the ambiance you're looking for, so be sure to consider all the relevant factors before deciding. How do you know what to choose? You learn a little about each one.
Pleated room darkening shades will allow you to reach very dark conditions. If they're built with a cellular structure, they can also contribute to your energy efficiency.
Light filtering pleated shades come in various colors, and are great if you want to allow soft light in but not have to deal with constant glare. Their wavey design gives them a more unique look and appeal.
Blackout blinds are, naturally, great for achieving complete darkness. Their flat surface makes it so that no sunlight gets through when they're fully closed.
Flat light filtering sheer shades provide UV protection while also letting sunrays through to bring natural lighting into the room.
Venetian blinds, with their shifting vanes, aren't the best at achieving complete blackout, but they do offer the option to control the direction and angle of the entering sunlight.
Remember, skylight shades and blinds can be manually operated, or they can be solar powered. Yes, that's right, you read that correctly. You can have it so that these coverings actually use the very sunlight they're filtering to power their movement. The future is now, eh?
Professional Installation And Repairs
Make sure that your new skylight shades are installed by experts who have years of knowledge to assure it's done correctly and will last! Our friendly team would be glad to lend you a hand and get them all put in before you know it so you can move on with your busy schedule. If your shades don't seem to work correctly any longer, just let us know so we can take care of repairing them as soon as possible!
Skylight Shades Near You!
Putting off purchasing window coverings for your skylight just ensures more energy waste from the temperature fluctuating, and risks your furniture getting bleached by the sun as well. Why deal with either when Motorized Blinds & Shades can help? Just call us today for more information.