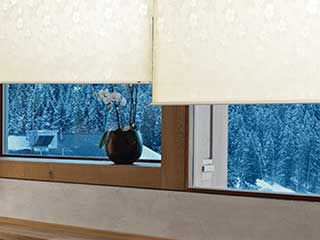 Window shades, electric or hand-drawn, have plenty of benefits in general. They protect us from harsh sunlight and UV radiation. They also give us privacy when we want it, and help keep rooms nice and cool during summer and cozy through the winter. When it comes to deciding which type of window covering to get, the range of choices can be staggering. But that's not the first choice you need to make. Before choosing materials and designs, you first need to decide if your new window treatments are going to be automated or hand-drawn. You may be thinking, give me one good reason to bother going with motorized shades. We'll do you one better, we'll give you three reasons.
Convenience At Your Fingertips

Ever woke up groggy with the sunlight pouring through the window? If you have to get up and draw the shades, you won't go back to sleep. So you just decide to struggle and put a pillow over your eyes to avoid the sun glare. Next time you'll remember to close the shades before going to sleep. Maybe. Or… you can just get motorized shades. If you had automatic window coverings, you won't need to get up, you'll just need to push a button. Heck, with the latest motor and control models, not even that. You can control these shades with your smartphone!

Maintaining The Optimal Indoor Environment Easily

It's possible to create an ideal home environment with hand-drawn shades, no doubt about it. But maintaining it is another thing altogether. With self-adjusting shades, not only will you not have to manually change the position of the window covers every hour or so, you won't even have to think about it! That's right. Somfy and Lutron now have special sensors that can connect to your motorized shades and have them adjust their position according to certain criteria, like brightness level, outside weather conditions and more.

Extra Home Security

You may be asking, how can electric blinds and shades offer me enhanced security? Well, here's the deal: most thieves and burglars don't just waltz into a house hoping that it's empty so they can strip it clean of valuables. They spend some time casing the place. Seeing when people are coming and going, etc. If you're away for a few days or longer, it will be very easy for them to know that. One of the main reasons would be because your window shades will stay in the same position through that time. And as you can probably guess, that's where motorized shades come in. With timed settings or automatic sensors, your electric window treatments will open and close at certain points during the day, making it seem like your home is occupied while actually, it's just the ghost of smart home tech.