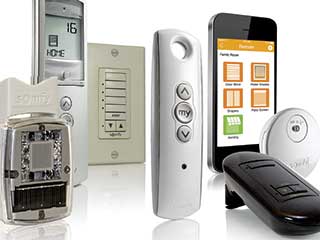 The benefits and elegance of motorized blinds and shades need no introduction. Just by looking at the smoothness of their movement you can already tell how neat and elegant they look, and how convenient it can be to have automated covers for your home or office windows. But have you given any thought to your preferred method of control? There are more than just a couple of choices, and you should take a minute to learn about some of the more popular ones.
A Remote Handset
There is still a classic appeal to using dedicated handsets in order to control your automated window treatments. Although many homeowners do opt for alternatives, a lot still prefer this method. These aren't your grandfather's remotes, mind you. Oh no, modern products (especially ones made by Somfy and Lutron and other famous brands) come with LED lights, have a modern and sleek design, enhanced range, and offer all sorts of special features too.
Wireless App Control
Using your smartphone as a universal remote isn't a new thing, but it's rapidly becoming more convenient than ever. Seeing as most of us already carry it around with us on a daily basis, why would we choose to not use our phones to control another aspect of our smart home technology? No one prefers to have to look for a remote handset or to go to the wall switch, after all. Smartphone control is an easy and very convenient way to open and close your motorized blinds from virtually anywhere.
Integration For Voice Commands
An arguably even cooler control method is to not use physical remotes at all, and to simply integrate your motorized window treatments with the virtual assistant of your smart home. This allows you to simply speak the "magic words" to Google Home, Alexa, or some other digital helper, and your blinds will comply.
Smart Self-Adjusting Blinds
With the use of special sensors that measure your indoor temperature and/or brightness levels, or ones that sense outside weather conditions, you can do away with remotes altogether. Naturally, you'll still want to have the option to control your motorized shades should you choose to. However, by utilizing sensors to your automated covering system you can have the blinds simply adjust themselves according to certain parameters, which you determine. It's the set-it-and-forget-it automation mentality that many homeowners seem to be adopting nowadays.
Not Sure Yet?
Let Motorized Blinds & Shades help you out! If you live or own a commercial property anywhere near the greater LA area, give us a call or use the scheduling system on this website to set up a free consultation with one of our professionals. Let us show you the range of available options and help you customize your automatic window coverings to suit your taste and needs.