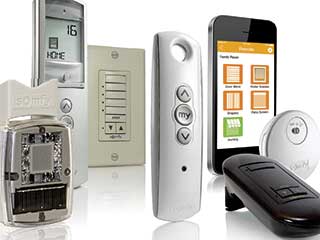 As Los Angeles's expert provider of custom window coverings, we understand what an impact motorized shades can have on any room. The added convenience and security that these coverings can bring should never be understated, but few homeowners fully appreciate the benefits that they bring. Here are a few useful applications of Somfy's motorized shades, and how they can improve your daily life.
Choose How To Control Your Blinds
Motorized blinds benefit significantly from Somfy's integration with home-connected technology. Your window coverings can be easily controlled directly from your smartphone, wherever you are. Gone out for the evening and forgot to close the blinds? –There is no need to worry - you can easily close them remotely. Laying in late? Grab your phone from the nightstand and open up the downstairs blinds to let the morning sun in.
Somfy blinds can also be controlled via connected-home hubs such as TaHoma and Amazon Alexa, enabling your home to fully adapt and respond to your lifestyle.
Wireless Motorized Window Treatments
Somfy motorized shades generally need to be powered, but you have several other options available to you. WireFree blinds are battery powered and can be installed almost anywhere. The clever design allows coverings that use this technology to look just like a traditional set of window treatments, while also retaining the convenience aspect. Bear in mind that the lower power supply of a battery isn't sufficient to drive heavy loads, and many larger blinds will require wired power supplies.
Time Your Blinds
Motorizing your window coverings provides a large number of ways for you to make your life simpler and more convenient. One of these many options is to set a timer on your windows' blinds. Your privacy will always be protected at night, and you'll always wake up in the morning to sunlight streaming through the windows - a little less hassle and a little more convenience. This also gives the impression of household activity, even if you're away, adding a little extra security to your property.
Perfect Design Choices
Somfy products are available in a wide range of styles and materials. Whether you're looking for a set of Venetian, Roman or pleated blinds, Somfy's products are available to entirely suit your needs.