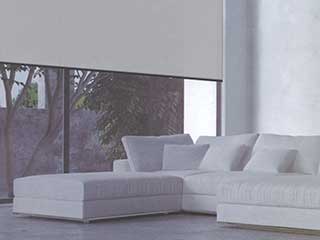 There are several types of automatic window blinds and shades out there. In terms of the blinds and shades themselves, they're as varied as your imagination. In terms of the motorization method used to operate them, a little less so. They each take a different approach to using electrical energy to remove the need for human effort and hazardous draw cords. Below you can find a quick overview of the various kinds, and some examples of relevant brands and models.
Powered Roller Devices For Most Motorized Blinds
Roller shades are one of the most basic and common types of window coverings, and motorizing them is simple. An electrical motor causes a rod or spool to turn, pulling the shade upward as it is coiled up, or letting it extend downward as it is uncoiled. Part of the appeal of this style is that it is compatible with so many different materials, from simple cloth or vinyl to advanced solar fabrics, to ornate bamboo sheets or cellular insulation arrays. Lutron's synchronizable Contract Roller line is a high-end example. As you can see, motorized roller shades are possible to achieve in all sorts of ways. But it's important to let an expert do it if you want to ensure they work great from day one.
Pleating Or Stacking Cords For Motorized Roman Shades and More
These motorized window coverings is a category that includes pleated blinds, Roman shades, Venetian blinds, and others. They work by pulling two cords taut through a repeatedly folded sheet of material or stack of rigid or semi rigid slats. When "open," the cords pull each section of the window covering flat against the segment above it, compressing them all into a tight stack at the top of the window pane and often inside of a boxlike housing unit. These diverse and aesthetically pleasing blinds and shades can be given high-efficiency motors and housing prisms from Somfy. You can also have them connected to sensors or advanced software controls from the same company to increase their reliability and ease of use. Motorized Roman shades are an excellent want to add both décor and utility to any room.
Tracks And Sliders For Motorized Curtains and Horizontal Blinds
For windows that extend further to the sides than they do up and down, a horizontally sliding window treatment is often preferable. The most common option, and one of the oldest types of window covering in history is the sliding curtain. With Somfy powered tracks and motion sensors, you can have a set of motorized curtains that responds to multiple variables. Human proximity, excess or insufficient sunlight and heat are a few examples. There's a long list of other possible conditions. The use of temperature and brightness sensors is available for this type of motorized blinds and curtains.
The Best Motorized Blinds Options
Want to know which kind of motorized blinds method is right for your needs? Contact us for a no-obligation consultation and let us help you decide. Get a free quote on custom made motorized blinds, curtains, or even roll up shutters for your home or office. See what the best combination of colors, materials, and motorization method is for your custom window treatments.