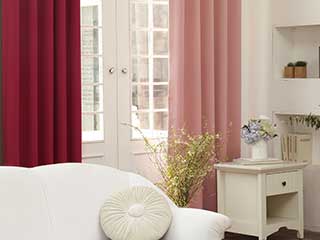 Motorized window coverings have so many benefits, it's hard to find a reason not to get them. Budget-related reservations are probably the only cons people can come up with when compared to hand-drawn blinds and shades. Naturally, if you compare two versions of the same product, the motorized variety will cost more, there's no way around that. That doesn't mean, however, that the same is correct in the long run, but that's another story. For now, let's focus on which type of window treatment you should motorize if you had to choose just one.
What Looks Better?
You can always choose to have all your coverings, from the blinds to the shades, motorized, if you're so inclined. But assuming that's not your aim, you may find that one type works or looks better when moving automatically. Motorized drapes and curtains move laterally when opening or closing, same as they do in manual form. This tends to look a bit more awkward when compared to the smooth and straightforward movement of electric blinds and shades. There's also something very retro about it. As if it's the 80s version of futuristic, rather than a contemporary innovation. Of course, that part's a matter of taste.
Extra Adjustability Options
The movement itself is a matter of aesthetic value, so it can be contested, and some may prefer drapes over blinds in that aspect. However, there's no denying the fact that motorized blinds offer a broader range of light control options, when automated or not. The use of vanes allows for much more precise decision making when it comes to choosing just how much sunlight gets in. Therefore, in terms of which type allows for more options, electric blinds or drapes, the former take the cake. Shades, in general, usually don't have vanes, so their motorization comes down to an up or down movement, which is similar to drapes. However, there's a neater quality to the vertical course as opposed to the horizontal trajectory of curtains. It's also less likely to encounter obstacles, which makes for a lot smoother motion.
The Smooth Movement You're Looking For
There's a very clean and neat quality to the way motorized shades or blinds move. The slide down or climb up slowly, according to your commands, which makes the movement a lot smoother and less likely to be jittery or shaky. Problems can always arise, of course, as no mechanical or electrical system is completely trouble-proof, but opting for a professional installation and going with high quality products will always mitigate those significantly.
What About The Material?
This is where things get tricky. When discussing motorization in the sense of the aesthetics of movement, in our opinion, blinds and shades take the crown. But when it comes to choices based on décor, there's no right or wrong answer. With so many different types of fabrics, textures, and designs available, your motorized window treatments can look as beautiful as you want them to. Want to know what custom made covering options are available to you? If you're a resident or a business owner in the greater LA area, contact us at Motorized Blinds & Shades to schedule a free consultation with one of our experts.