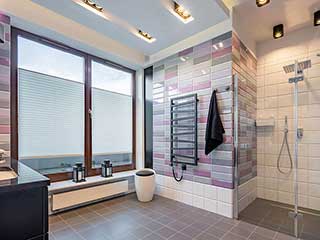 If you decided to get new motorized window treatments installed – congratulations! You've taken the first steps towards an automated utopian future. All jokes aside, electric blinds and shades have lots of different benefits, and virtually no downsides. They make for an excellent way to add convenience and elegance to your property. They can also save you money on energy, if you opt to utilize their automation options to their fullest extent. So how are motorized blinds and shades powered? Well, the answer is divided into three parts.
Hardwired Electric Blinds

As the name suggests, these motorized window treatments connect directly to the power grid of your property. The resulting benefits are perfectly unison movement of all motorized shades that are synced into the same control system. The constant electrical flow makes them move smoothly as a signal unit, if you so choose. The hardwired method is especially effective for large sets of blinds that go over big windows. Of course, that also means that if the power goes out suddenly, you won't be able to use your motorized blinds until it returns.

Battery Powered Blinds

The benefits of this type of power source are easily discernable. You won't have to rely on your local power supplier and your shades will continue working even during power outages. They don't require stretching wires across the walls in order to connect to the main electrical infrastructure, and are far easier and faster to install because of that. They also use less power to operate, and apart from replacing or recharging the battery, there are no real energy costs to speak of. Naturally, that's where their relative cons lie. Battery powered blinds need to have their power source replaced every so often. They're not the best at creating a symmetrical opening and closing movement, due to their use of less power, this also makes them less suitable for larger windows.

Solar Powered Blinds

As the name suggests, these window treatments operate by utilizing sunlight as their main power source. The benefits, as you can imagine, are quite significant. They don't require connection to your main electrical grid, and operate completely independently of any outside power source other than that big glowing ball in the sky. Naturally, this type of motorized shades and blinds work best when installed on southern or western facing windows that see the most exposure to sunlight. They require constant sunlight exposure in order to operate, and if their solar panels are covered by awnings or some jutting roof parts, that will hinder their performance. Extremely cloudy weather can also influence them in the same way. However, if you're looking for an eco-friendly shading solution, you'll find no greener option than solar powered window treatments.
Want To Know More?
In summation, there are a few different ways you can power the operation of your motorized blinds. The ultimate decision depends on several factors, including your budget, and various other logistics. To ensure you're making the right choice, simply get in touch with us at Motorized Blinds & Shades and have an LA-based expert sit down with you for a free in-home consultation.