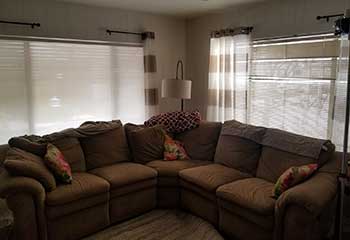 Venetian Blinds
Customer Issue: Mrs. Malone needed to put in new blinds in her son's bedroom, and wanted something that would last a long time.
Our Solution: Our professionals discussed various styles with Mrs. Malone, but suggested that aluminum Venetian blinds would likely be the best fit. They're easy to use, and the aluminum makes them long-lasting against wear and potential fussing with by the son. She felt this would be the best fit, and we got to work taking measurements. Our technicians were back to install them as soon as they were made.
Theresa Malone
- Los Angeles
Wood Blinds
Customer Issue: Ms. Phillips had just inherited the house over 100 years old and wanted to make it look its best again.
Our Solution: Ms. Phillips wanted the authentic thing in order to keep the classic look of the house. We went from one window to the next and carefully measured each one. Ms. Phillips wanted a cordless lift system, and with that in mind, we left to tailor the blinds to her wishes. After we installed the blinds that offered easy adjustment and light control we were glad to hear from Ms. Phillips that she was more than satisfied with the final result!
Julie Phillips
- Los Angeles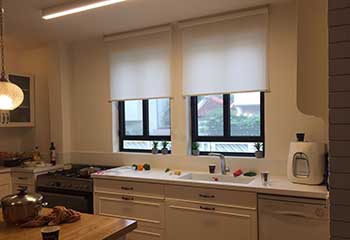 Roller Shades
Customer Issue: Mr. Swanson wanted new shades for his kitchen that would be simple, so as not to distract from the décor overall, as well as functional.
Our Solution: Roller shades had the straightforward style, as well as the extreme customizability, that Mr. Swanson was looking for. This would allow him to easily suit them to the area with the color of cloth, and their simple lines wouldn't overtake the rest of the kitchen's design. He chose a beautiful shade of yellow to match the overall area.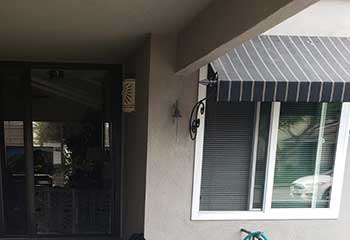 Outdoor Shades
Customer Issue: Mr. Carlson wanted to make his patio cooler and more comfortable so he could host gatherings there more easily.
Our Solution: Our team suggested outdoor shades, which would allow the customer to block out sunlight from the space and keep it from heating up in the process. He decided on light grey colored ones so they wouldn't get noticeably dirty, and our experts took measurements to create the shades to fit the space exactly before installing them.
Richard Carlson
- Montebello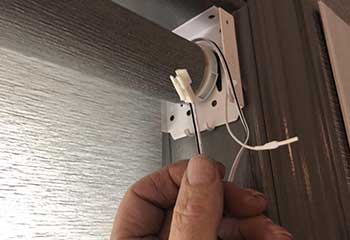 Motorized Vertical Blinds
Customer issue: Rising windows in need of motorized treatment.
Our solution: Our team has recommended and installed custom vertical blinds with a Sonesse 30 RTS motor, for the ultimate convenience of a quiet, relaxing environment. Ms. Heintz said the motor and fabric are the perfect fit for her bedroom and promised to recommend our services further.
Suzanna Heintz
- Beverly Hills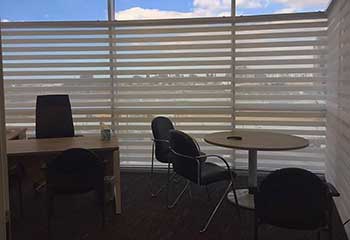 Motorized Cellular Shades
Customer issue: Client struggling with light control and high-reaching windows.
Our solution: Ms. Linck's office has an amazing view of the city but is overly exposed to the sunlight. Our team has recommended motorized cellular shades with a high UV protection and filtering. Upon the agreement, our technicians went out to perform the custom installation. The customer was happy with her darkened interior and her employees noticed comfort levels going up straight away.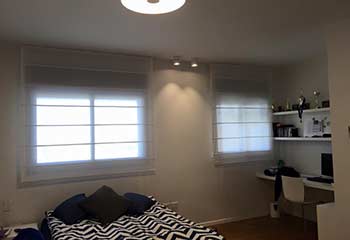 Motorized Roman Shades Installation
Customer issue: In need of specific shades to minimize sunlight exposure and feature a folded look.
Our solution: The customer had an extreme amount of morning sunlight coming in through her bedroom windows. She was looking for a window covering with strong filtering and a soft-fold design. Our final recommendation was to install motorized Roman shades with a 5% filter. The client was happy with both our recommendation and installation.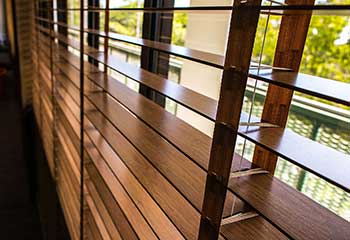 Motorized Faux Wood Blinds
Customer issue: Sunlight-ridden interior in need of protection and convenience.
Our solution: After a lengthy discussion, we've decided to go with the faux wood style motorized blinds. Our customer is a big fan of home automation and had his garage door, dryer, lights, and sprinkler system connected. The motorized shades we've sourced and installed met his expectations and added an extra layer of convenience to his daily life.
Levi Kenny
- Universal City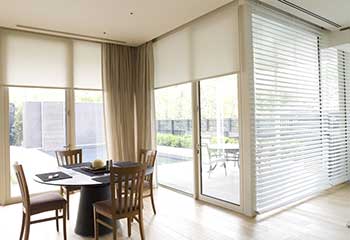 Motorized Aluminum Blinds
Customer issue: In need of a motorized solution for large windows and heavy fabric.
Our solution: Our team carefully listened to the client's requirements in order to pinpoint the perfect solution for his situation. Our sales rep agreed with the customer on new motorized blinds with a custom aluminum design. Mr. Cosworth was beyond happy with the results.
David Cosworth
- Westwood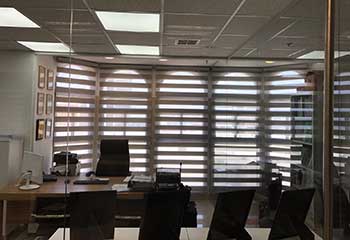 Motorized Blinds Installation
Customer issue: Client in need of a motorized blinds solution for his commercial business.
Our solution: Mr. Aylesoworth wanted to provide his team with a touch of convenience and elegance with new and convenient motorized blinds. Now, his employees can control how much sunlight comes in with a single touch of a button. We've finished the large-scale installation in time and have remained within the customer's budget.
Samuel Aylesworth
- Los Angeles