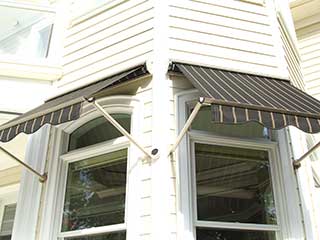 What do Somfy electric window coverings look like? The most accurate answer would be "almost anything" given the diversity of products. But that still isn't entirely true. Somfy-powered blinds and the brand's series of sensors and remotes all tend toward light efficiency, airy atmosphere, and cleverly designed automation. Somfy provides a range of motor and control methods for anything from window blinds to motorized shutters. Any type of window treatment, hard or soft, can get attached with some type of motor and control devices to automate its opening and closing. So what are some of the more popular options? Let's find out.
Somfy Motorized Blinds And Shades
The major types of automatic window treatments Somfy products are used for are motorized roller shades, Venetian blinds, and horizontally sliding curtains. There are a lot more options of course, including Roman shades and faux wood blinds. Like we said earlier, automating window treatments is pretty much always a viable option. This goes both for existing shades and for new, custom made ones. For the nearest source for motorized blinds and other automatic window coverings, get in touch with LA-based Motorized Blinds & Shades and consult with a local expert.
Different Motorized Blinds Have Different Requirements
Motorized roller shades are the simplest of the main options, and are best blinds for windows that are much taller than they are wide. They especially work well for windows that have some space below the ceiling above them to keep the spooled roller. Venetian, Roman, and pleated blinds are all collapsible rather than rolled. Thus, they have fewer space requirements but are also more delicate. For long, low windows, motorized curtains and drapes may be the best option. They offer a different, horizontal approach to the automation process. You can have blinds for your Los Angeles home windows suited with motorized draperies or get automatic shutters for your downtown office.
Horizontally Sliding Curtains
No window covering gives a greater mixture of hominess, security, and aesthetic beauty as a set of artfully made and well selected curtains and draperies. Somfy motorized curtains are installed on sets of powered tracks. These can be controlled either by remote or wall console, or via a more advanced device. Curtains are the least vulnerable to damage and jamming of all motorized window treatments. Motorized curtains afford some unusual flexibility too. They're able to be hand drawn even when motorized and cordless without complications. Now, are they the most popular automatic window treatment option? Probably not. But motorized curtains have lots of variety and appeal to offer your LA property.
Smart Systems And Sensors
Of course, Somfy's true claim to fame is more than the window treatments or operator motors themselves. It's actually the frankly ingenious collection of control and management systems they've devised. Somfy's products includes voice activation systems. This is in addition to timers, solar sensors, and motion and heat detectors. The voice controlled blinds can interact with your cell phone or smart home virtual assistant such as Alexa or Google Home. The most advanced software programs can even create their own programs. Those will help in minimizing your heating and air conditioning expenses and furniture damage. They can maximize your house's aesthetics and lighting even. They do this by using online weather data, whatever sensors you have plugged in, and your own habits. Whether you own a family sized house or an office building near LA with hundreds of motorized blinds, Somfy has a program that can run it.
Motorized Blinds – Los Angeles and Nearby Cities
To get a custom window treatment set made and installed, call Motorized Blinds & Shades and schedule a free consultation. See what types of Somfy blinds and other automatic window treatments you can get for your business or home. Apart from the remotes and motors Somfy makes, you can also choose from all sorts of materials, textures, and designs for your new motorized window blinds, curtains, and shutters. Your no.1 source for Somfy motorized blinds near LA is us. Call and get answers to any questions you have.